Happy Birthday to You! The Mystery Behind the Most Famous Song in the World was written by Margot
Theis Raven with paintings by Chris Soentpiet. Sleeping Bear Press. Published: August 2008 ISBN: 9781585361694
Open my mail and what do I see? Happy Birthday to You! The Mystery Behind the Most Famous Song in the World. Okay, I think to myself. This title must be a picture book celebrating birthdays that everyone in elementary can pull out over and over… Wrong! It is far more.
This is the title that I shall read aloud to classes before emphasizing my lesson on copyright and giving credit to the original writers of information. The pages "Footnote to History" take this book beyond a beautifully illustrated celebration of how a song was created to an insightful understanding of the need for and process of obtaining copyright for original material.
If you have ever been frustrated when you are in a restaurant and the staff converges on some poor person to shout out some "altered" version of Happy Birthday, to You, then you need to read this book. I admit being resentful that no one could sing the correct version in public anymore because they were afraid they'd have to pay money. "Who are these stingy, greedy people?" I wondered.
Turns out these simple sisters from Kentucky that helped disseminate the concept of kindergarten in the late 1800's wrote a song book called Song Stories for the Kindergarten where they included a song of "Morning Greeting." They had a history of changing the words to that simple tune for all kindergarten events – especially birthdays, so they really were the creators of this tune and words.
It was only when the Birthday Song showed up in a Broadway musical that sisters Patty and Jessica became furious and took their case to court. The song "Happy Birthday to You" was copyrighted in 1935 giving credit to sisters Patty and Mildred. The copyright ends in 2030.
Want to know how much revenue is earned each year? You'll have to get the book. I will tell you that the revenue benefits the Hill Foundation and early childhood education. There, do you feel better about it being copyrighted?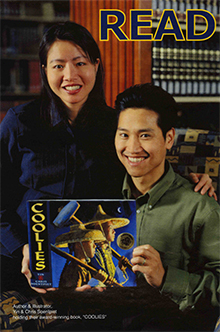 You must add Happy Birthday to You! to your collection to satisfy teacher's needs in the classroom. The illustrations by Chris Soentpiet (Soon peet) fill each page with rich color and joy. My only gripe is that the cover illustration is so very tiny that you have no idea of the luscious art work waiting inside. Chris Soentpiet won my heart with Molly Bannaky and with Coolies. He has also illustrated More Than Anything Else, My Brother Martin, and Peacebound Trains. I have always thought his work reminded me of Ted Lewin's for it's dramatic impact. Imagine my surprise when I read on Chris's web site the Cast of Characters of his life.
Author Margot Theis Raven also wrote America's White Table, Let Them Play, Mercedes and the Chocolate Pilot, and many others. Thanks Margot for writing two stories in one – the joyful celebration of a creative family and the importance of copyrighting creative and original work.