Make room on your state's award lists because this new title Masterpiece by Elise Broach will easily be added. Elise is the author of Shakespeare's Secrets and Desert Crossing so she has "award cred" already. Perhaps Shakespeare's Secrets didn't fly off the shelves, but Masterpiece is an easier booktalk of friendship. Before 10,000 people email me about this, I did like Shakespeare's Secrets, but it didn't circulate without booktalking.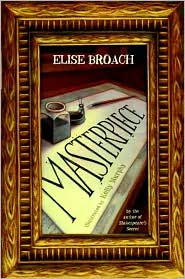 Don't you love the feeling when you recommend a book for a child and they come back to tell you, "You were absolutely right so far. I am loving this book!"? That's the type of comment I've received from Masterpiece after placing it in several children's hands. They come back quickly and want more.
Masterpiece is a deceptive book. Boy and Beetle become best buddies. Boy and Beetle go on great adventure, outsmarting all adults and solving the art crime of the century (okay, maybe just the decade).
Ah, but reader there is so much more lurking in this book. James is the rather uninspiring boy with disappointing parents at the beginning of the book. Marvin the beetle comes from a loving family and is secure in himself. Their friendship gives hope to all lonely readers.
Counselors can share this title with students to look deeper. I know that many of my students would trade places with the beetle in a heartbeat. I don't want to give away any spoilers, but you must contact me when you finish this book.
Tell me DO YOU AGREE WITH OR WERE YOU HORRIFIED WITH WHAT JAMES DOES IN THE END? Okay, I can't tell you what it was, but suffice it to say, I'm standing by waiting to take your call, er, email, er, comment.
Any student who has ever visited an art museum (or dreamed of it) will be able to place him or herself in this book. There are so many researchable topics slipped inside that the reader can extend his or her experience and continue with this Masterpiece. Set in the Metropolitan Museum of Art, readers have so many more treasures waiting to discover there.
The website for Masterpiece from Henry Holt / Christy Ottaviano Books includes an audio reading by the author, discussion guide and more. Use that site and don't rely upon the author's site just yet. Elise Broach needs to get her website up to date to include this in her creds. Illustrator Kelly Murphy has a fascinating opening page on her website that goes, well, I don't know where it goes, but it might make you seasick. It doesn't give me more than links to Amazon.com and I couldn't find any illustrations for Masterpiece on her web. I know that Masterpiece wasn't released until September, but it's November now and it's time to put up some info authors. Maybe I'll call Henry Holt Kids today and nudge them. Just so when your students begin delving deeper they can find more from the author.
For those of you wanting to read more of a traditional review, check out how Ami opens her blog review for Masterpiece with this line: "For those readers not quite ready for the intensity of Balliett's Chasing Vermeer or The Wright 3, Masterpiece offers budding sleuths a sweet, pleasant history-mystery." SomeReads has a review and comments on how the writing overcomes the farfetchedness.
Let me know when you put this title on your student choice lists in your state. I can't wait to see if your students comment like mine did.