Readers, don't think we worked the entire time. One of the best parts of visiting a bookstore
is chatting with someone else who loves books. Robbie Bryan the CRM (Community Relations Manager) and I spent a great deal of time discussing all our favorite titles from 2008. Something about the Bestselling Teen Fiction sign kept drawing me back. We both loved The Hunger Games. Robbie suggested social studies and civics courses could read this aloud to truly involve students.
We found Nye's Habibi book from 1997 which is particularly relevant today. A young girl growing up in St. Louis suddenly moves to Palestine/the West Bank. She eventually befriends a Jewish boy and puts her families views on prejudice. I've seen this book on several lists of Middle Eastern fiction and I was surprised to find it stocked at B&N.
We raced through the magazine section so I could hold in my hands the titles students had suggested I purchase. We found some of these in the Family Section, but I had to travel to the Teen Fiction section to locate the older teen titles. While we were there I asked "How many covers can the Jonas Brothers be on at one time?" The answer? SEVEN They beat out High School Musical and Hannah Montana/Miley Cyrus. Oh, yes, if any of my students are reading this blog, I'm NOT going to buy Lowrider ever. Didn't you know I'd check your suggestions in person and via reviews?
Back to teen fiction to seek Urban Fiction. Robbie suggested Ellen Hopkins for high school with Glass and Burned. We agreed that Sharon Draper rules with Copper Sun. I knew Sharon G. Flake from The Skin I'm In which is constantly requested at the circ desk, but I still haven't read Flake or Begging for Change.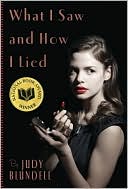 While we were discussing award books and I was searching for this year's National Book Award winner, I saw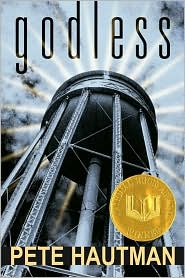 Godless and was very intrigued. We couldn't recall the current NBA winner, just our favorite titles that "lost." I had to get to the computer to remember it was What I Saw and How I Lied. I confess I still haven't read it. Maybe I will consider it most worthy after reading it. In the meantime I like the short list of titles it beat. Laurie Halse Anderson, Chains; Kathi Appelt, The Underneath; E. Lockhart, The Disreputable History of Frankie Landau-Banks; and Tim Tharp, The Spectacular Now. I think it's important to have opinions on books, don't you?
As much fun as I was having in the teen section, I did need to respect my roots of elementary librarianship and spend an hour or two in the children's books. It was truly hard to walk past the display of Holiday and Christmas titles that were all 50% off. Did you know Robert Sabuda's Christmas titles were still there? If I'd had my paycheck in hand, those books would have been in my hands. Sadly I had to leave them for you, the reader, to go snatch up.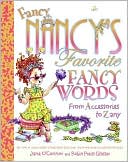 I am always interested in displays in bookstores. It seems that the Fancy Nancy team has really hit big time. Who would have thought books on expanding your vocabulary could be so popular? As Robbie stated "this is a sneaky way to build vocabulary." Fancy Nancy's Favorite Fancy Words from Accessories to Zany was my favorite.
Robbie shared that co-author Robin Preiss Glasser has visited his store twice for author events. Trinity Elementary partnered with Barnes & Noble for one of the events. Students arrived dress very fancily with cardboard top hats and fake boas. One of the parents owned a limo company so students received limo rides in the parking lot. I need to pay more attention to the author events in town! As the CRM, Robbie helps with each of these. What a fun job?!


I discovered the younger addition of Classics titles. These are published by Sterling press and are RETELLINGS. I always feel it is important to emphasize this so students and parents are disappointed that the Sterling book isn't exactly the same (meaning unabridged) as the original. Robbie tells me that he does the same thing for the same reason. We want our customers/patrons to be happy with their selections.
I was excited to note the display on Dragons that the store created (not a corporate directed display) for Chinese New Year.
I wasn't excited by the new updates to an old favorite. The new series is called IF YOU. I like the older looking illustrations of the originals like If You Grew Up With Abraham Lincoln. Tell me which covers you prefer – the new or the old. Would you be surprised to hear there may have been actual hissing while I scanned the covers?
Fortunately Robbie was able to take me to another section of books I hadn't seen: the Scanimations! I'd heard of Gallop but never seen it. That day I was able to hold Swing: A Scanimation Picture Book by Rufus Butler Seder in my hand. Then Robbie opened up ABC so we could scan the alphabet. I know other customers were watching how much fun we were having because some of those books were gone by the time I came back.
Since we were near the pop-up books, we tested to be sure some of the books on the shelf hadn't been loved too much by customers. Did you know that Robert Sabuda and Matthew Reinhart teamed to create Brava, Strega Nona with Tomie dePaola? I feel like I'm the last to learn anything. The book has been out since October. I must not be on Penguin's good reviewer list. Good thing Robbie was there to point it out to me.
Knowing Nashville schools are preparing for science fairs, Robbie also showed me a new fiction title Science Fair by Dave Barry and Ridley Pearson. This could help those dreamers take their projects a little more seriously.
I'm always on the lookout for scary books so I was pleased to see Creepers in the children's section. It's more appropriate for elementary than YA anyway and my Goosebumps fans need something new.
Suddenly I spied Autumn Winifred Oliver Does Things Differently by Kristin O' Donnell Tubb. I have kept the postcard for this title beside my bed, but still haven't had the book in my hand so I was excited. This is from a local Franklin, Tennessee author so perhaps we can partner with B & N for an author visit.
Hmmmm. Something to contemplate while I go get another cup of coffee. See you in the next post.