#84 Alanna: The First Adventure by Tamora Pierce. Atheneum, 2002. ISBN13: 9780689853234. 240pp
What you have here, readers, is a big fan of Tamara Pierce! I enjoy her Beka Cooper, the Circle Opens, and the Circle of Magic series, but long before those titles came the Song of the Lionness Quartet beginning with Alanna. Check out many of the covers here and here in the cover gallery.
Awards:
Main Selection, Children's Book of the Month Club
Author's Citation, The Alumni Association, New Jersey Institute of Technology, 17th Annual New Jersey Writers Conference, March 24, 1984
Recommended Fantasy (list) of "GenreCon" (the Preconference on Genres of the Young Adult Services Division of the American Librarians Association, June 1991)
A YALSA Popular Paperback for Young Adults, 2003

Pure fantasy fun and a good introduction to fantasy writing for middle schoolers.

Check out the reviews:
SFF World

Books Love Me

OMS Book Blog states:
Alanna is a strong, heroic young girl who wants to be a knight, but in her world, like ours, it's not something girls do. So she disguises herself as a boy and goes to the palace for training. She is small and gets picked on, but she works hard and has a gift for magic, and so she triumphs eventually. It's a very convincing fantasy world without dragons or strange creatures. It's almost a combination of medieval times and a fantasy world with sorcerers and magic.

These reviews get why I like this book. It has a strong female character and the emphasis is on Girl Power! Still Jezebel's Emily Gould reviews it in her way to show that:

Back then, I accepted its message — that by working twice as hard as the boys, you can beat them at their own game — very credulously, now that I think about it. But I didn't pay much attention to the book's other implicit lesson, which is: If you show any sign of "femininity" or weakness, you leave yourself open to attack. Alanna can vanquish her demons with magic, but the rest of us are gonna have to figure things out on our own.

---
#83 Bud, Not Buddy by Christopher Paul Curtis. Delacorte Press, 1999. ISBN: 0385323069. 256pp

Quote from one of the nominators:
"Convinced he remembers his father's name, Bud journeys to find him. You get so caught up in your own perspective that you can't see what others see and what should be obvious to you."
SLJ Review:
Gr 4-7-When 10-year-old Bud Caldwell runs away from his new foster home, he realizes he has nowhere to go but to search for the father he has never known: a legendary jazz musician advertised on some old posters his deceased mother had kept. A friendly stranger picks him up on the road in the middle of the night and deposits him in Grand Rapids, MI, with Herman E. Calloway and his jazz band, but the man Bud was convinced was his father turns out to be old, cold, and cantankerous. Luckily, the band members are more welcoming; they take him in, put him to work, and begin to teach him to play an instrument. In a Victorian ending, Bud uses the rocks he has treasured from his childhood to prove his surprising relationship with Mr. Calloway. The lively humor contrasts with the grim details of the Depression-era setting and the particular difficulties faced by African Americans at that time. Bud is a plucky, engaging protagonist. Other characters are exaggerations: the good ones (the librarian and Pullman car porter who help him on his journey and the band members who embrace him) are totally open and supportive, while the villainous foster family finds particularly imaginative ways to torture their charge. However, readers will be so caught up in the adventure that they won't mind. Curtis has given a fresh, new look to a traditional orphan-finds-a-home story that would
be a crackerjack read-aloud.-Kathleen Isaacs, Edmund Burke School, Washington, DC
As always, I am grateful to Carol Hurst's Children's Literature Site for her comments and activity links.
Read an excerpt on the Random House page and check out their teacher's guide.
Annette Lamb has developed Teacher Resources for Bud, Not Buddy on eduscapes.
Soon after Christopher Paul Curtis learned he'd received both the Newbery Award and the Coretta Scott King award, he visited Powell's and gave an interview.
Awards:
Winner of the 2000 ALA Newbery Award
2000 ALA Coretta Scott King Award
ALA Notable Children's Books
School Library Journal Best Books of the Year
IRA Children's Book Award for Older Readers
ALA Best Books for Young Adults
Publishers Weekly Best Books of the Year
Reading Rockets has a video interview of Christopher Paul Curtis.
Christopher Paul Curtis remains one of my favorite authors and is a delight to speak with. I welcome every opportunity to promote his works because they impact my students. The books inspire them. Christopher's messages to young people and to writers are some of the best to share. Bud, Not Buddy is a title that I knew would cross over the lines into the list Betsy Bird is compiling for the Top 100 Children's Novels so I deliberately collected my information before reading her post. She has wonderful links that you'll want to be sure to see as Bud, Not Buddy came in #47 on her list. Enjoy.

---
#82 To Kill a Mockingbird by Harper Lee. Warner Books, 1960. ISBN13: 9780446310789. 288pp
Quote from one of the nominators:
"A beloved classic that had to be on my top ten teen books list."
In the July 2007 blog post called Brown V Board of Education, Marc Aronson began with this line: "Nonfiction Matters Because of Who We Sit Next to In Class." But then he throws in this sentence:

I cannot imagine why any teacher would assign yet another class to read To Kill a Mockingbird when, instead, her class could be studying and debating this ruling — which is likely to decide who each student in that class is likely to sit next to, share a table with at lunch, and befriend.
Ouch! Now, Marc, my reader's can tell you that I am passionate about nonfiction and thinking, but your statement insulted everyone who has been impacted by the book To
Kill a Mockingbird….and there are many people. Did anyone bother to respond to Marc in the comments? No. We let this comment lie there festering.
To Kill a Mockingbird (TKAM) has been called a nearly perfect novel and the best novel of the 20th century. It won the Pulitzer prize in 1960. Many adults comment upon the impact TKAM has had on their life and how they treasure their copies. Others talk about reading it as an adult and gleaning so much more than from their childhood reading.
While facebook has a page celebrating To Kill a Mockingbird's 50th anniversary, there is a
page called I Was Forced to Read To Kill A Mockingbird which has 475 fans. Of course, several of those fans admit to liking it, but recognize they were "forced" to read it in middle school. I found many who read it in college as a freshman and they had vastly different opinions.
Did you know the Sparknotes for To Kill a Mockingbird can be downloaded on your ebook or as a pdf now? If you are assigning this book, chances are your students will stumble upon the TKAM Survival Guide which has over 400 annotations to understand the words, allusions, and idioms.
The National Endowment for the Arts on The Big Read page describes To Kill a Mockingbird this way:
Harper Lee's To Kill a Mockingbird is the rare American novel that can be discovered with excitement in adolescence and reread into adulthood without fear of disappointment. Few novels so appealingly evoke the daily world of childhood in a way that seems convincing whether you are sixteen or sixty-six.
Lee tells two deftly paired stories set in a small Southern town: one focused on lawyer Atticus Finch's defense of an unjustly accused man, the other on his bright, bratty daughter's gradual discovery of her own goodness. For many young people this novel becomes their first big read, the grown-up story that all later books will be measured against.
On the Amazon review page Patricia A. Powell writes: Harper Lee had one incredible story to tell and she
told it well. Don't read this novel for inventiveness. Read it for the near perfect writing. Read it to be moved. Read "To Kill a Mockingbird" because it is a sin not to.
May I suggest you also include in your collection this biography called I Am Scout: the biography of Harper Lee by Charles J. Shields? It was on the American Library Association Best Books for Young Adults list and was the Bank Street Best Children's Book of the Year. I loved it and it truly enhanced my reading of To Kill a Mockingbird. Another title to purchase is Also Known As Harper by Ann Haywood Leal which I blogged about.
So, back to Marc's blog post… I agree that we should provide more books of nonfiction to discuss issues of segregation and the concept of separate but equal. Since moving to Nashville, TN, I see continuing evidence of racial prejudice and attempts to segregate into "neighborhood schools." We need novels like To Kill a Mockingbird, Hurricane Song, and My Mother the Cheerleader to help us see through fiction the realities of prejudism.
---
#81 The Ear, the Eye and the Arm by Nancy Farmer. Orchard Books, 1994. ISBN13: 0531086798. 311 pp
Quotes from some of the nominators:
"A completely bizarre future-world that isn't based on the US or Europe is something I don't usually find. This book was heavily influenced by the African country it is set in and is beautifully written."
"I'm officially kicking the Hunger Games off this list so that I can include this title instead, which is SO WONDERFUL and totally needs more love, and just barely missed making my top ten for middle grade, so since it's really more a young-YA anyway I am squeezing it on here instead. How many other science-fiction-fantasy-adventures-with-a-touch-of-humor-set-in-22nd-century-Zimbabwe are you ever going to find out there?"
My very favorite review is this letter from Aunt Bridgette Redman to her niece Saralinda.
SLJ Review:
Gr 7-10-Set in Zimbabwe in 2194, this sci-fi/fantasy combines a coming-of-age quest with its attendant dangers and rewards and an interweaving of elements from African mythology. Tendai, 13; his younger sister, Rita; and preschool brother, Kuda, are children of Matsika, their country's Chief of Security. Frustrated by their choreographed existence, they attempt a cross-city trip that will fulfill requirements for a Scouting merit badge in exploring. They little realize the opportunity this unchaperoned escapade will afford their father's enemies, and find themselves abducted soon after their trip begins. Prisoners of the "She Elephant," so-called queen of a toxic dump known as the Dead Man's Vlei, the children discover they are not to be ransomed, but to be worked and then sold to a terrorist group called The Masks, deadly and spirit-damning. Matsika calls in "The Ear, The Eye, and The Arm Detective Agency," whose three agents each have a special power to aid in their search for the captives. They are steps behind as the children escape from one dire situation to another. Ultimately, the Masks are unveiled and destroyed, and the family is reunited. Rich in setting, the story is as complex as a weaver's kente pattern, as symbolic as an eijiri figure, as sophisticated as a Benin bronze. Demanding and intricate, but often convoluted, it will be rewarding to readers willing to travel beyond everyday places and to work to untangle its many strands.-Patricia Manning, Eastchester Public Library, NY


According to Rosella Maggie, Resident Scholar on AllReaders.com:
This series of events helps the children mature and start to become the adults they will someday be. The whole ordeal creates a closer bond between them and their parents and helps Mr. and Mrs. Matsika reevaluate their roles as parents. "
A booktalk prepared for the Margaret O Brown library.
Take a trivia quiz on The Ear, The Eye, and the Arm.
A TeenInk review.
Aaron Shepard has an excerpt adapted as a reader's theatre piece
Reading Rants: Out of the Ordinary Teen Booklists reviews and comments
Literature Plans and lessons for Nancy Farmer's work
Read Nancy Farmer's interview about writing books set in Africa
SF Site Featured Review by Lisa DuMond states:
If every imprint was coming out with titles of this quality, we would be able to reach those last few holdouts that J.K. Rowling didn't and pull them away from television and video games and get their noses back in books, where they belong…..The Ear, The Eye And The Arm is one of those books you finish and immediately want to call everyone you know to recommend. Hmmm… I suppose that's what I'm doing right now. In a book that speaks so eloquently about the deceptive nature of appearances, it may seem odd to compliment the striking cover art by Mark Harrison, but even the cover speaks to that same
theme. Of course, The Ear, The Eye And The Arm is also a coming-of-age tale and an important illustration of the, often ignored, reserves of strength and ingenuity in children. As the detectives work ever closer to rescuing the lost children, the children are working just as hard at surviving and rescuing themselves. It makes for a breathtaking journey and a much-needed nudge in the ribs for all of us.
Awards:
Newbery Honor Book
an ALA Best Book for Young Adults
an ALA Notable Children's Book
Bulletin for the Center for Children's Books 1994 Blue Ribbon Book
Society of Children's Book Writers and Illustrators Golden Kite Honor
1994 Parents' Choice Story Award
Hal Clement [Golden Duck] Award
Parenting Magazine Reading Magic Award

The Ear, the Eye and the Arm received starred reviews from Kirkus Reviews, Publishers Weekly and The Bulletin of the Center for Children's Books. Nancy Farmer continues to write fascinating books that appeal to middle and high school readers. I hope she's on your list of authors to watch for new works.
---
#80 My Sister's Keeper by Jodi Picoult.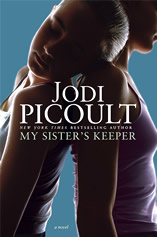 Atria Books, 2003; paperback version, Washington Square Press, 2005. ISBN13: 9780743454520. 432 pp
Synopsis:
Anna is not sick, but she might as well be. By age thirteen, she has undergone countless surgeries, transfusions, and shots so that her older sister, Kate, can somehow fight the leukemia that has plagued her since childhood. The product of preimplantation genetic diagnosis, Anna was conceived as a bone marrow match for Kate – a life and a role that she has never questioned… until now. Like most teenagers, Anna is beginning to question who she truly is. But unlike most teenagers, she has always been defined in terms of her sister – and so Anna makes a decision that for most would be unthinkable… a decision that will tear her family apart and have perhaps fatal consequences for the sister she loves. My Sister's Keeper examines what it means to be a good parent, a good sister, a good person. Is it morally correct to do whatever it takes to save a child's life… even if that means infringing upon the rights of another? Is it worth trying to discover who you really are, if that quest makes you like yourself less?
Honors and Awards
Winner, Best Novel, Spanish or Biligual – 2009 Latino Book Awards
Winner of the 2007 Virginia Readers' Choice Award
Winner of the 2006-2007 Maryland Black-Eyed Susan Book Award in the high school division.
The Abraham Lincoln Illinois High School Book Award (2007)
Vermont Green Mountain Book Award Master List (2007)
Winner of the Margaret Alexander Edwards Award (the Alex Award) given by the American Library Association
Best Book of the Year (2005), Bookbrowse.com
Nominated for an IMPAC Dublin Literary Award
Shortlisted for the Richard & Judy Best Read of the Year in the UK, and nominated for a British Book Award, 2005.
You may have viewed the movie starring Cameron Diaz, Abigail Breslin, Sofia Vassilieva, Jason Patrick, Alec Baldwin, Joan Cusack, and Evan Ellingson.
The movie was nominated for several awards and did win the Teen Choice Award for Summer Drama. I noted on the author's website she told fans she was not responsible for the change in the ending of the book. This piqued my curiosity so I ran to Redbox and rented the movie to watch. If you can't watch the movie, you can read wikipedia's version of the differences between the book and the movie, but I warn you there are too many spoilers.
One of the reasons I believe this title is so popular with older teens is because it allows them to think, to anguish, to ponder "what if?" and to seriously consider the issue of control of their own bodies. Having the chapters alternate points of view enables teens to consider life (and this story) from someone else's viewpoint.
The review from SLJ by Susan H. Woodcock includes this explanation:
Everyone's quandary is explicated and each of the characters is fully developed. There seems to be no easy answer, and readers are likely to be sympathetic to all sides of the case. This is a real page-turner and frighteningly thought-provoking. The story shows evidence of thorough research and the unexpected twist at the end will surprise almost everyone. The novel does not answer many questions, but it sure raises some and will have teens thinking about possible answers long after they have finished the book.

Other interesting reviews:
Teen Ink
Carnegie Library of Pittsburgh teen review
Teen Reads
TeensReadToo
YoungAdultBooksCentral
---

Wonder what's next? There are 79 more titles on this list. Will you recognize them?