Did you know that Nashville, Tennessee is a major refugee relocation center? We have the largest population of Khurds in the US, a large population of Sudanese families,  and currently we are anticipating huge numbers of refugees from Myanmar.  I womder if any are Karenni. Along come two timely titles to help me understand.
For fiction we have Mitali Perkins' Bamboo People (Charlesbridge, 2010) and for nonfiction I'm using the Global Hot Spots series including Burma (Myanmar) from Marshall Cavendish Benchmark, 2010. Do you have any additional suggestions?
Bamboo People by Mitali Perkins. Charlesbridge, 2010. ISBN13: 9781580893282 Recipients of Junior Library Guild selection, Indie Next Summer 2010 Book Pick (2010) and nominated for ALA's Best Fiction for Young Adults 
Publisher's Description:   Chiko isn't a fighter by nature. He's a book-loving Burmese boy whose father, a doctor, is in prison for resisting the government. Tu Reh, on the other hand, wants to fight for freedom after watching Burmese soldiers destroy his Karenni family's home and bamboo fields. Timidity becomes courage and anger becomes compassion as each boy is changed by unlikely friendships formed under extreme circumstances.
This coming-of-age novel takes place against the political and military backdrop of modern-day Burma. Narrated by two fifteen-year-old boys on opposing sides of the conflict between the Burmese government and the Karenni, one of the many ethnic minorities in Burma, Bamboo People explores the nature of violence, power, and prejudice.
I appreciate the Classroom Discussion Guide written by Mitali Perkins and Kelley McDaniel. They include historical information and websites including www.bamboopeople.org  which was initiated by Perkins. Be sure to visit Bamboo People dot org to read snippets of all the reviews of Bamboo People.
The fascination of Bamboo People comes from the voice of the narrators – it is first person and intense. Perkins has effectively incorporated details of the environment into the conversation and the character's actions rather than relying upon long paragraphs of details. It is an art to be able to reduce such complex emotions to such simply language.
Bamboo People is a haunting story that clings to you and forces you to examine all sides of a conflict. It was a powerful read.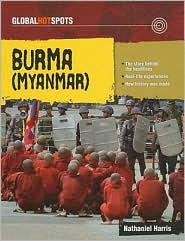 Burma (Myanmar) by Nathaniel Harris. Marshall Cavendish Benchmark, 2010.  ISBN 9780761447580 $18.56.
Synopsis: Living under strict military rule, the people of Burma (Myanmar) have experienced years of unrest and hardship. Opposition to the government is brutally rejected, while human rights abuses cause worldwide concern.
This title helps explain the history of conflict for the people of Burma or Myanmar. It does not tell enough about the refugee camps in Thailand or who is forcing Christians to leave Myanmar. I did gain a clearer sequence of events and learned who several of the key historical figures were.
I attempted to locate other nonfiction titles to take with me, but each of their copyright dates were older.