It begins around Thanksgiving each year. We reflect on what we learned, what we tried, what we loved, what we abandoned.  I thought I'd share a few of those early bird lists and a couple of opportunities for you to contribute to the list making yourself!
Each year I look forward to Jane Hart's list.
Winners & Losers 2011 C4LPT,
the results of her 5th annual crowd-sourced survey, are available as a list and a presentation.  I just shared the link with my faculty.  I was happy to see that one of my faves,
Scoop.it,
is new to the list.  Among the other new (for me) tools I plan to explore are
Mahara an open source e-portfolio platform
Geogebra to share with our Math Department
lino – online stickies
With their
50 Free Apps We're Most Thankful For
Lifehacker shares a lovely list of 50 mobile apps with links to previous posts.  The list is based on their call for suggestions and the resulting
thousands of votes for apps covering the desktop, mobile phone, and devices in between. With a little spreadsheet magic and a few choices of our own, we bring you the top 50 free apps we're all most thankful for. Whether you're celebrating the holiday or not, it's a great list of free software that ought to make for some gluttonous downloading
.
Lifehacker suggests advanced users scroll down through the more popular apps to discover new free software you may not yet know about.
I plan on a few days of serious app gluttony.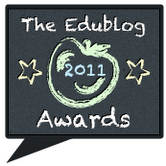 And speaking of gluttony, my blog roll grows like crazy during
Edublog Awards
' nomination and awards time.  And
nominations and now open for the 2011 Edublog Awards.
Since 2004, it's been the mission of the Edublog awards to promote and demonstrate the educational values of these social media. The best aspects include that it creates a fabulous resource for educators to use for ideas on how social media is used in different contexts, with a range of different learners while creating an invaluable resource of the best-of-the-best on the web!

Last year, our TL community was extremely well represented. Let's make sure the same is true this year and that we recognize the great efforts of all those who inspire us.  (I can think of a number of emerging bloggers and networkers and some fabulous conference conveners, can't you?)
You can nominate your faves in an out of our community by simply:
Write a post with your nominations for the different categories on your own blog (or a website – anywhere public)
Send the link to your nomination post via the form at the bottom of the Nominations Page
Some changes to categories this year such as:
Some categories have been combined together (Best ed tech / resource sharing blog and Best educational use of audio / video / visual /podcast)
Two new categories (Best open PD / unconference / webinar series and Best free web tool)
Virtual worlds are encouraged to be part of the expanded "social network" category
Here are the categories in full – nominations are open from now until Friday 2 December, and voting will then be up until Tuesday 13 December and the ceremony will be rocking on Wednesday 14 December!
So go nominate your favorite blogs, twitterers, community sites, videos, podcasts and more… for 2011:
Best individual blog
Best individual tweeter
Best group blog
Best new blog
Best class blog
Best student blog
Best ed tech / resource sharing blog
Most influential blog post
Best twitter hashtag
Best teacher blog
Best librarian / library blog
Best School Administrator blog
Best free web tool
Best educational use of audio / video / visual / podcast
Best educational wiki
Best open PD / unconference / webinar series
Best educational use of a social network
Lifetime achievement
And finally, let's build our very own list.  At the TL Virtual Cafe on December 5th, 8PM Eastern, we'll be hosting a Learning Tools Open Mic/Smackdown/Karaoke.  We're planning to get ready by building a crowd-souced presentation/book.  Please feel free to grab a slide (or several) and be ready to grab the mic on the night of the event and share your faves.  We'll leave the evening with our own dynamic, growable resource book.