SCROLL DOWN TO READ THE POST
Edublogs (discovery) time!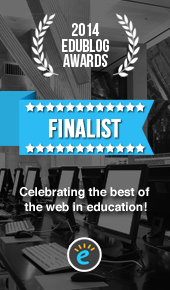 It's Edublogs Award time.
While we have an opportunity to vote for our faves on List.ly, I see this, more importantly, as an opportunity to make discoveries relating to important voices in the larger field.
As you look at the nominees, be sure to look at and beyond the Librarian list. These nominees represent leadership.
So, consider Edublogs as a tool, a grocery list (?), or mood board.  And use it to scout for, shop for, or discover inspirational voices for you and your administrators and your classroom teacher partners to follow.
Here are all the categories:
Voting will close at 11:59pm EST on Monday, December 15th. (Check in your timezone here.)
Filed under: awards, edublog awards
About Joyce Valenza
Joyce is an Assistant Professor of Teaching at Rutgers University School of Information and Communication, a technology writer, speaker, blogger and learner. Follow her on Twitter: @joycevalenza
SLJ Blog Network
Archives