SCROLL DOWN TO READ THE POST
In on the joke: Political cartoons and the election
We want our kids to be in on the joke.
As I mentioned last time around (or in 2012), presidential elections present ultimate, authentic teachable moments, opportunities for us to exploring a variety of literacies with learners at all levels. Political cartoons are everywhere. These powerful little works of editorial art and sharp, nuanced thinking force a fun and humorous awareness of the importance of visual literacy.
Political cartoons help students identify persuasive techniques, better understand symbolism, and examine the power of such literary and rhetorical devices as analogy, hyperbole and irony.
Here are a few of my favorite portals. Use them yourself, or assign the kiddos to discover cartoons they find most meaningful.

My go-to, monster portal for political cartoons has long been Daryl Cagle's Professional Cartoonist Index, a site that collects and organizes the works of cartoonists all over the world. You may not need to go any further.
SCROLL TO KEEP READING THIS POST
US News and World Report offers a slideshow of Political Cartoons of the 2016 elections, more than 500 of them!
The Week, the popular news and opinion magazine, offers a running archive of its editorial cartoons as well as the opportunity to sign up for their Cartoon Newsletter.
USA Today offers a gallery of Daily Editorial Cartoons.
And here are just a few resources to get the thinking started:
Of course, editorial cartoons are rich for analysis and class discussion. And of course they are all over our standards for reading and writing in terms of point of view, purpose, argument, rhetoric, analysis of literal and figurative meanings.
The Library of Congress shares a Cartoon Analysis Guide as well as a Teacher's
Guide for Analyzing Political Cartoons
The New York Times Learning Network shares Election 2016: Our Teaching and Learning Homepage.  The Student Editorial Cartoon Contest is accepting submissions until Oct. 18.  The handout Analyzing an Editorial Cartoon will inspire crit
ical thinking and there's a recently submitted lesson Analyzing and Creating Editorial Cartoons by New Jersey middle school history teacher, Ahlam Yassin.
The National Archives and Records Administration (NARA) shares its own Cartoon Analysis Worksheet (my personal favorite) which prompts students to deconstruct and consider each individual element of a political cartoon.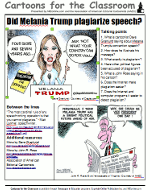 The Association of American Editorial Cartoonists: Cartoons for the Classroom offers more than 3 00 lessons, including Blank Toons that allow students to create with captions and bubbles.  Here's the Lesson about Melania's speech and an example of a Blank toon.  
Quite a while back, I realize that some of my students were truly not in on the jokes. They needed a bit of a visual glossary of common symbols before they attacked cartoon analysis. So I worked with colleagues to create this slideshow—Symbols in Editorial Cartoons.  Feel free to use it or help grow it!
Save
Filed under: cartooning, politics
About Joyce Valenza
Joyce is an Assistant Professor of Teaching at Rutgers University School of Information and Communication, a technology writer, speaker, blogger and learner. Follow her on Twitter: @joycevalenza
SLJ Blog Network
Archives