SCROLL DOWN TO READ THE POST
Oh where, oh where has Tortilla gone? Join the Technicolor Adventures of Catalina Neon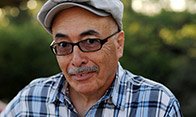 Where is Catalina's doggy, Tortilla?
Our nation's 21st U.S. Poet Laureate, Juan Felipe Herrera poses a question he would like children to answer, as creatively and as poetically as possible!  He and artist/illustrator Juana Medina invite your second and third grade kiddos to join a bilingual poetry party!
This week, the Library of Congress debuted the The Technicolor Adventures of Catalina Neon as an interactive online project. The spirited, vivid bilingual, poem introduces the neonized world of young Cata
lina.
SCROLL TO KEEP READING THIS POST
After reading the first chapter and seeing the inspiring, open-ended models of art and poetry, second and third grade children and their school librarians(!) are invited to jump in and imagine how the story continues–to propel Catalina's next adventure!
Guided by student and librarian response, the poem will grow to contain six chapters and end with the school year in June 2017.  The Poet Laureate and the illustrator themselves will choose each next student-driven chapter. This page offers the details and a form for joining the fun!
In an LOC blog post, Juan Felipe Herrera shares:
It was a magical experiment and experience conjuring this project with the one and only Poetry and Literature Center at the Library of Congress  .  .  .
I want to offer the wand of poetry
To every child and school in the
Nation. Catalina Neon is that inspiration
Wand – once a child picks it up and
Waves it across a sheet of paper or
A computer screen.
Participation is easy, simply respond to the first prompt by November 1, 2016: Where does Tortilla go? Describe in detail—make us see, hear, and feel where Catalina's doggy is!"
First Chapter  – "Meet Catalina Neon and Her Doggy, Tortilla"

Hear it

And please, spread the word!
Save
Filed under: interactivities, Library of Congress, poetry, technology
About Joyce Valenza
Joyce is an Assistant Professor of Teaching at Rutgers University School of Information and Communication, a technology writer, speaker, blogger and learner. Follow her on Twitter: @joycevalenza
SLJ Blog Network
Archives