SCROLL DOWN TO READ THE POST
Google launches Dataset Search
In today's world, scientists in many disciplines and a growing number of journalists live and breathe data. There are many thousands of data repositories on the web, providing access to millions of datasets; and local and national governments around the world publish their data as well. To enable easy access to this data, we launched Dataset Search, so that scientists, data journalists, data geeks, or anyone else can find the data required for their work and their stories, or simply to satisfy their intellectual curiosity.
The search allows you to locate datasets stored across thousands of repositories in the context of their hosted sites in a single interface. Formerly, these data have been siloed–often unfindable by search engines and undiscoverable by researchers.  Sites included agree to the guidelines for dataset providers, which required transparency surrounding: who created the dataset, when it was published, how data were collected, and any terms related to using the data.
Google hopes the project will:
a) create a data sharing ecosystem that will encourage data publishers to follow best practices for data storage and publication and
b) give scientists a way to show the impact of their work through citation of datasets that they have produced.
Available in multiple languages, and launched as a companion to Google Scholar, the current search focuses on environmental and social sciences, government data and data provided such news organizations as ProPublica.  The new release includes data from NASA,  NOAA, and such academic repositories as Harvard's Dataverse and Inter-university Consortium for Political and Social Research (ICPSR).
SCROLL TO KEEP READING THIS POST
While my initial test drives did not reveal all that much that would be useful for everyday high school inquiry, this search is expected to grow significantly as more contributors describe their datasets with the open standard set by schema.org.  I am excited about the potential.
I did find interesting resources like this link to WWII Weather conditions: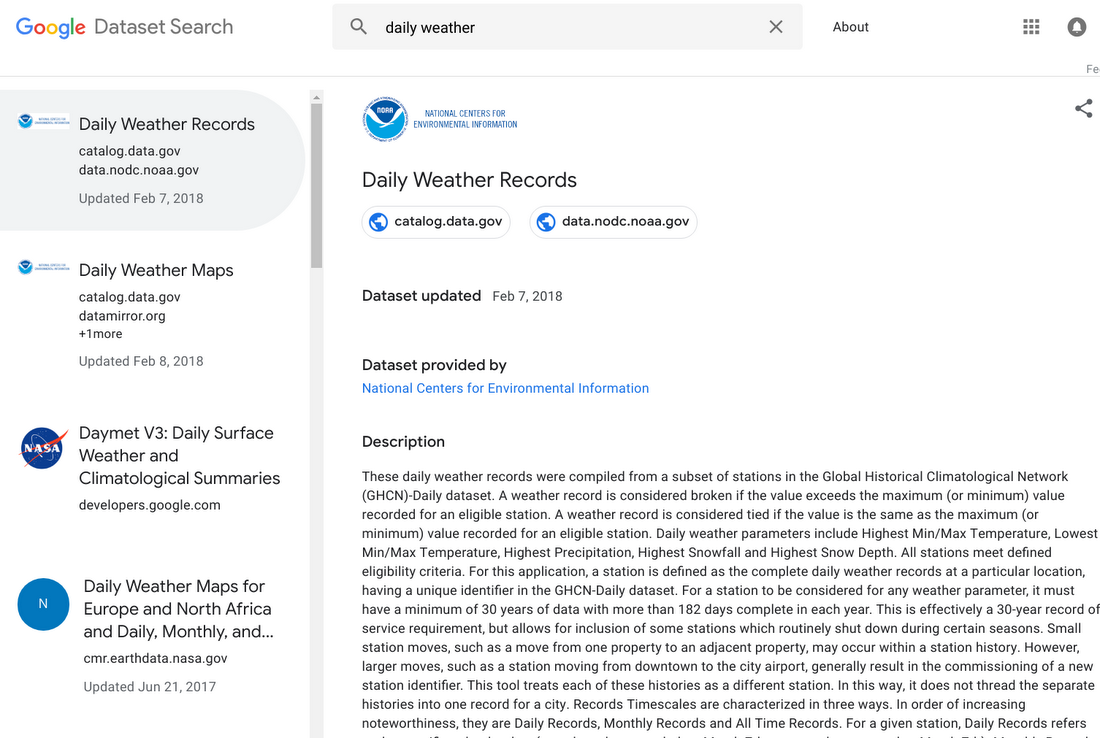 Noy notes that this beta release is a step in a larger plan:
This launch is one of a series of initiatives to bring datasets more prominently into our products. We recently made it easier to discover tabular data in Search, which uses this same metadata along with the linked tabular data to provide answers to queries directly in search results. While that initiative focused more on news organizations and data journalists, Dataset search can be useful to a much broader audience, whether you're looking for scientific data, government data, or data provided by news organizations.
Filed under: data, databases, search tools, searching
About Joyce Valenza
Joyce is an Assistant Professor of Teaching at Rutgers University School of Information and Communication, a technology writer, speaker, blogger and learner. Follow her on Twitter: @joycevalenza
SLJ Blog Network
Archives