SCROLL DOWN TO READ THE POST
The Undertaking of Lily Chen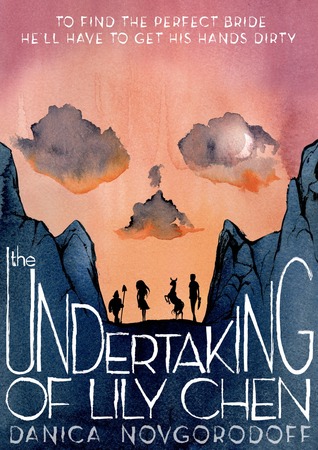 The Undertaking of Lily Chen, Danica Novgorodoff
First Second, March 2014
Reviewed from final copy
I almost didn't write this review. Not for a lack of quality in Danica Novgorodoff's graphic novel–it has quality bursting out of the pages. No, I almost abandoned this one because of that pesky eligibility question. It's an issue I raised last year when I reviewed Lucy Knisley's Relish, another book that was technically an adult pub. But, there was enough ambiguity in the publisher-defined age-range that I thought it was worth a discussion. I'm going to sound like a broken record, but I think the same principle applies for the delightfully morbid love story that is The Undertaking of Lily Chen. Yeah, technically it's an adult pub, but if I ran the world (or, at the very least, the Printz committee) I would put this book forward for discussion.

Why? Well have you seen the art? For goodness sake, just look at that cover! That isn't just a beautiful watercolor sunset; that's a skull made out of clouds and the negative space created by the mountains!! And the silhouettes of the main characters make teeth! Gah!
I can't take how gorgeous this book is, because the prettiness doesn't stop at the cover. Novgorodoff uses watercolors and silhouettes throughout the work to establish and sustain the serious atmosphere amid what becomes a romantic comedy between Deshi–our protagonist who is seeking a corpse bride for his recently deceased brother–and the titular Lily. On the road together during the day, Deshi and Lily bicker through panels that sparingly use watercolor for the backgrounds or as an accent detail. The colors are light and bright and the art is mostly done in what appears to be pen and ink. However, when night falls, Novgorodoff relies more on watercolor and silhouettes to show the conflict between Deshi's familial obligation and his attraction to Lily. Watercolors are frequently used to create the faces of Lily and Deshi's brother, in water and smoke, and even on blank white backgrounds on full-page spreads. Because the technique is far more impressionistic than traditional sequential art, it does a terrific job of visualizing Deshi's guilt.
SCROLL TO KEEP READING THIS POST
Text and dialogue are used sparingly, but always with maximum impact. The only time that Novgorodoff perhaps has her characters say too much is when Lily pleads with Deshi to let his brother go, arguing that funerals (and by extension, the belief that a deceased bachelor should be posthumously married in order to have a companion in the afterlife) are for the mourners, not the dead. Lily is a talker though, so it's in character for her to speak bluntly and give Deshi some tough-love advice towards the end of the novel. For a book that succeeds without the themes written out, it was just a bit jarring.
The really impressive thing about Lily Chen is that it can handle the balance between very dark humor, romance, and drama, all while maintaining the same visual style and voice. Most of the work is done by the art, but the themes are well-established in the text, which allows readers to internalize the story on both levels equally.
Although it's a tremendous long shot, I still think that there's enough going on in this thematically rich, unique story to merit a discussion. Deshi's journey from second-best son eaten up by guilt to a young man willing to die for a woman he loves is remarkable and worth looking at. Even if you disagree with me and my loose reading of the eligibility rules and think this one is clearly for adults, let's talk in the comments. And if you haven't read Lily Chen yet, I'm begging you to please get your hands on a copy and read.
Filed under: Books to look for, Contenders, Fiction
About Joy Piedmont
Joy Piedmont is a librarian and technology integrator at LREI - Little Red School House & Elisabeth Irwin High School. Prior to becoming a librarian, Joy reviewed and reported for Entertainment Weekly's PopWatch. She reviews for SLJ and is the President of the Hudson Valley Library Association. When she's not reading or writing about YA literature, she's compulsively consuming culture of all kinds, learning to fly (on a trapeze), and taking naps with her cat, Oliver. Find her on Twitter @InquiringJoy, email her at joy dot piedmont at gmail dot com, or follow her on Tumblr. Her opinions do not reflect the attitudes or opinions of SLJ, LREI, HVLA or any other initialisms with which she is affiliated.
SLJ Blog Network
Archives