SCROLL DOWN TO READ THE POST
We Need Diverse Books (Ballet Edition)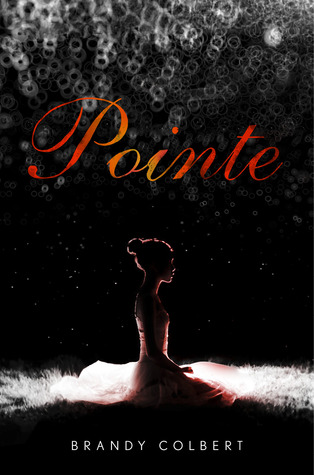 Diversity in YA has received a lot of attention recently, thanks to the #WeNeedDiverseBooks hashtag that's evolved into a formal organization for activism and awareness. Brandy Colbert's debut YA novel, Pointe was published just two weeks before the influential hashtag was born. Excellent timing because Pointe isn't only a novel with a narrator of color; it's a novel that places its protagonist in a world that's known for its issues with women of color.  Seriously, just google "where are all the black ballerinas;" you will see an alarming number of results. If you needed further proof, you could look at Michaela DePrince's recently published memoir, Taking Flight: From War Orphan to Star Ballerina. Each book earned a star from Publisher's Weekly, which would make them under-the-radar contenders for the Printz. And although they are quite different in the way ballet is utilized as part of the narrative, we've paired them for this post because they offer contrasting viewpoints, and it's a diversity of voice within very specific parameters.

Pointe, Brandy Colbert
G.P. Putnam's Sons Books for Young Readers, April 2014
Reviewed from final copy
I'll say this: Pointe is a strong Morris contender. Really strong. Brandy Colbert's control over Theo's voice is masterful. She is mature and naive, driven and confused, surly and vulnerable. Theo's development as a character completely relies on her voice, how she tells her story, and how she comes to shocking realizations about her past. She's an unreliable narrator, but unlike other narratives that use unreliability as a catalyst for plot twists Colbert uses this technique to build sympathy for Theo with dramatic irony. We know well before she does that she has been the victim of a sexual predator, making her confusion about the situation all the more heartbreaking.
SCROLL TO KEEP READING THIS POST
Throughout the novel, Theo's dedication to ballet is just a small part of how we see her. She says that it's so important to her she can't imagine not dancing, but the narrative focus shows that actually, ballet seems to be the thing she uses for distraction from her messy life, to focus on something ordered and controlled. In theory, this should work. Instead, there is too much mess in Theo's life. Far too much for any one novel to tackle in any meaningful way. Each of the issues raised–including eating disorders, post traumatic stress, anxiety, and sexual abuse–are complex and need more resolution than is offered by the end of Pointe. Ultimately, the focus is on Theo and how she emerges from an impossible period of her life with a greater sense of self, but it felt like the second half of the novel began an exploration of these issues that was never finished.
Taking Flight, Michaela DePrince and Elaine DePrince
Alfred A. Knopf Books for Young Readers, October 2014
Reviewed from ARC
Michaela DePrince is nineteen-years-0ld and she's a rock star. Not only is she a brilliant dancer, she is a poised young woman who is fully aware of and owns her responsibility as a role model for younger people. Her memoir–co-written with her mother, Elaine DePrince–has the power to change lives.
No, it's not really a Printz contender, but it really helped me contextualize my feelings about Pointe. As I mentioned earlier, ballet is a stabilizing force in Theo's life, but I was never convinced that it was a true passion. For DePrince, there is no question that ballet is what brings her joy and allows her to express herself; it's the way she works through her pain, rather than masking it. Though the writing isn't as polished and crafted as one would expect from an adult memoirist (she's still a teenager, and sounds like it), DePrince's commitment to ballet is palpable and her observations about race and prejudice in ballet are earnest and eye-opening.
For many people, reading about professional ballet dancers may be akin to reading about young witches and wizards in training at Hogwarts—they will recognize some similarities, but other elements will be totally new and foreign. I expect to see Pointe be in the Morris conversation, so definitely keep Taking Flight around to get a look at the professional end of the ballet world.
I know Pointe has its champions. So tell me what I'm missing here; also, let's take our spoiler discussion to the comments, because there were a lot of plot bombshells in this one.
Filed under: Contenders, Fiction
About Joy Piedmont
Joy Piedmont is a librarian and technology integrator at LREI - Little Red School House & Elisabeth Irwin High School. Prior to becoming a librarian, Joy reviewed and reported for Entertainment Weekly's PopWatch. She reviews for SLJ and is the President of the Hudson Valley Library Association. When she's not reading or writing about YA literature, she's compulsively consuming culture of all kinds, learning to fly (on a trapeze), and taking naps with her cat, Oliver. Find her on Twitter @InquiringJoy, email her at joy dot piedmont at gmail dot com, or follow her on Tumblr. Her opinions do not reflect the attitudes or opinions of SLJ, LREI, HVLA or any other initialisms with which she is affiliated.
SLJ Blog Network
Archives