SCROLL DOWN TO READ THE POST
Roundup: Boarding School Blues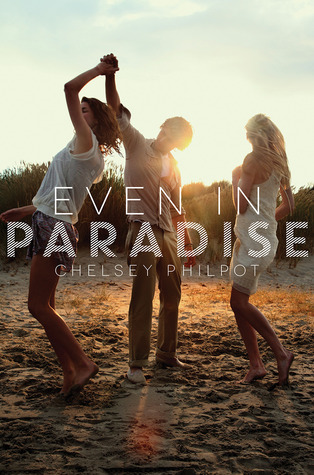 This morning, we're looking at two novels set in boarding schools; And We Stay is Jenny Hubbard's follow up to her 2012 Morris Award Finalist, Paper Covers Rock, and debut author Chelsey Philpot is inspired by classic literature in Even in Paradise.*
Both novels feature a young woman with a traumatic past who, in her junior year, transfers to a boarding school in New England amidst whispered rumors and speculation. Ostensibly, these stories are quite similar.
SCROLL TO KEEP READING THIS POST
But… not really. Although both novels share a melancholy tone, similar setting, and basic story breakdown, they're very different. Voice and theme stand out as the main areas where they diverge. There's also a major difference in the stars and buzz these books are generating. And We Stay has received four stars and a considerable amount of positive chatter, while Even in Paradise has received just one star and not a lot of people (that I know of) are talking about it.
And We Stay, Jenny Hubbard
Delacorte Press, January 2014
Reviewed from ARC
I don't take pleasure in going against popular opinion. By nature, I avoid conflict and when it comes to critical review I believe that any reading—given enough evidence and thoughtful consideration—can be valid.
I say all of this because I was genuinely surprised to see that And We Stay received four stars. I'm actually setting this one aside, unfinished. Overall, I think the third-person present voice is interesting (in a slightly cold, journalistic style) but very self-conscious. And while I appreciate the way that Hubbard plays with language, particularly when Emily is testing out words and turning them over in her mind, the choices don't feel integrated with story and character. Likewise, the way that the backstory unfolds in a stream-of-consciousness manner is a neat trick, but doesn't quite make sense given that it's third person narration; so there's a simultaneous immersion and distancing from the protagonist. The elements are technically fine, but just don't cohere.
I did skim through to the end just to get the gist of the plot, and from what I can tell, this seems to be much more of a character study than anything else (although, please correct me if I'm wrong). Emily's journey to healing through Emily Dickinson's poetry is a major part of the book, but everything relates back to Dickinson. It's to the point that one can't help but think that the plot must have been reverse-engineered to serve the character development. In and of itself, this isn't a negative thing to do, but I think it's why all of the Dickinson stuff feels forced.
I'm not going to argue that those stars are undeserved. This may be a book that's just not for me. Other reviewers awarded those stars for a reason. Kirkus called it a "layered story" and "lyrical," while Booklist said it's "accomplished" and "polished," "[mixing] prose and poetry to stunning effect." Anyone care to elaborate?
Even in Paradise, Chelsey Philpot
Harper, October 2014
Reviewed from ARC
SCROLL TO KEEP READING THIS POST
So far this season, I've already written about two books with strong Morris Award potential. Add Chelsey Philpot's debut to that list. In the months that have passed since I first read and reviewed Even in Paradise, the imagery and mood of this novel have really stayed with me, in large part due to Philpot's ability to describe settings in detail that make the spaces feel lived in. The boarding school's chapel, for example: "The damp air was infused with an earthy smell, as if the floor were made of dirt instead of scuffed marble" (p. 36). The word choice is simple, but evocative. Although in other instances some of the descriptions are more forced, these moments find the right balance, create a clear picture, and provide that intangible element needed to render authentic settings.
Beyond the sentence-level writing, the novel explores class and privilege and the ways they effect socio-economically unbalanced relationships. Scholarship student, Charlotte, falls in (platonic) love with Julia Buchanan and then her entire family–and the feeling's reciprocal–largely because the relationship is founded on Charlotte being a positive influence in Julia's life. The Buchanans appreciate the ways that Charlotte grounds Julia, and keeps her together. In that magical way that some friendships seem to grow overnight, Charlotte is easily integrated into their family. Rather than serve as an indictment against fast, intense attachments, Philpot conveys all of the ways that these connections can enrich our lives through Charlotte's collection of objects and moments, descriptions of which are peppered between chapters.
For the RealCommittee, there might not be quite enough here to warrant deep analysis—there are occasional shortcuts with characterization and some overwritten metaphors—but there's a lot of accomplished writing that deserves recognition for being the assured debut that it is. Personally, I'm looking forward to seeing what Chelsey Philpot does next.
Let's discuss in the comments why boarding schools are such fertile ground for YA literature. I'm also eager to hear defense and rebuttal for both of these books, so chime in!
*Full disclosure: Chelsey Philpot used to be an SLJ editor; I've also reviewed Even in Paradise for the SLJ book review.
Filed under: Contenders, Fiction
About Joy Piedmont
Joy Piedmont is a librarian and technology integrator at LREI - Little Red School House & Elisabeth Irwin High School. Prior to becoming a librarian, Joy reviewed and reported for Entertainment Weekly's PopWatch. She reviews for SLJ and is the President of the Hudson Valley Library Association. When she's not reading or writing about YA literature, she's compulsively consuming culture of all kinds, learning to fly (on a trapeze), and taking naps with her cat, Oliver. Find her on Twitter @InquiringJoy, email her at joy dot piedmont at gmail dot com, or follow her on Tumblr. Her opinions do not reflect the attitudes or opinions of SLJ, LREI, HVLA or any other initialisms with which she is affiliated.
SLJ Blog Network
Archives