SCROLL DOWN TO READ THE POST
More Happy Than Not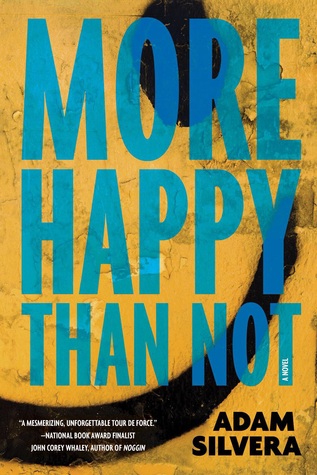 More Happy Than Not, Adam Silvera
Soho Teen, June 2015
Reviewed from e-ARC
This is the kind of book that can't be discussed deeply without spoiling it. Big spoilers ahead; watch out. 
If you could forget the most painful memories of your life, would you? Maybe you've seen this scenario play out in Eternal Sunshine of the Spotless Mind, but Adam Silvera's debut novel asks much harder questions than Charlie Kaufman's 2004 film. Personality is largely shaped by the collection of memories we carry around. If you forget certain parts of your life, will you change and will you be happier? Equally heartbreaking and fascinating, More Happy Than Not explores how forgetting can change people, and how the loss of key memories would affect a teen who was still in the process of identity formation. Given the critical praise it's received, this is a book that would have landed on our list anyway, but the buzz before it was even published was strongly positive and mostly centered on Adam Silvera as a unique new voice in YA lit. We all know that hype can really deflate one's experience of a book, but that was not the case here.

As the novel begins, Aaron Soto's recovering from a suicide attempt and facing a summer without his longtime girlfriend who's leaving to attend an art program. He's insecure about their relationship and clearly still fragile and grieving for his father who killed himself in their home only a few months ago. He's also surprisingly thoughtful about what he's been through and ready to move forward. When he meets Thomas, a restless but happy dreamer, he finds a kindred spirit; someone who understands what it's like to lose a father, and who isn't afraid to be different. Aaron "knows" that Thomas is gay, despite Thomas never explicitly coming out or expressing interest in guys. He worries for his friend because they've become very close and he's concerned about what might happen to him if they guys on the block were to find out. He and Thomas are so close that when Aaron's girlfriend returns she is clearly jealous of their relationship. Silvera doesn't have to spell out that Aaron is attracted to Thomas for the reader to know, even before Aaron knows it himself. He's an unreliable narrator, but he's emotionally honest so once he acknowledges those feelings, he tries to work through them maturely.
SCROLL TO KEEP READING THIS POST
Halfway through the novel it seems like the main conflict is about to resolve with nowhere else to go. But then Aaron kisses Thomas and is pushed away. He's not gay and doesn't have anything to "figure out," despite Aaron's insistence that he does. It's this heartbreak that inspires Aaron to ask his mother for a Leteo procedure.
Leteo is present in the story from the very first sentence. Aaron and other characters discuss the institute, side effects of the memory suppressing procedure, and people they know who have had it. He definitely has memories he would want to forget yet he also understands that his physical scar and the memory of the pain that led him to create it remind him to never do it again. It's Thomas's rejection that convinces Aaron that he needs to forget their relationship:
"I don't want to be me. I don't want to second-guess if my friends are going to be okay with me being me, and more importantly, I don't want to see what happens if they're not. I don't want to be someone who can't be friends with Thomas, because if there's anything worse than not being able to be with him, it's knowing our friendship will ultimately have an expiration date if being around him becomes impossible." (Emphasis is my own.)
Yes, Aaron wants the Leteo procedure so he can forget that he's gay and if Silvera wasn't a skilled writer, this story could have been a didactic disaster. But it's sensitive and nuanced. Aaron isn't just upset about the violence he will potentially face; he, like any teenager who's ever dealt with a devastating romantic rejection, can't bear to live in a world where the man he loves doesn't love him back. This is a really important distinction in a novel that directly addresses homophobia.
There's a lot of homophobic language used casually throughout the novel. Every time a character says "no homo" to indicate that whatever they've just done isn't gay, I cringed a little. It's ugly and you are absolutely supposed to feel uncomfortable. It's such a normal part of the way that Aaron communicates with his friends that there's no need for Silvera to underline why Aaron thinks that coming out to his friends would be met with hostility. Sure enough, when his friends see him hugging Thomas, they jump him and beat him until he is pushed through a glass door and cracks his head on the ground.
This is where the novel does something adventurous and interesting. Instead of what would have been Part 3, we get Part 0: all of the memories that Aaron's had suppressed because of course, he's already had the Leteo procedure. There's textual evidence to support this reveal so it feels right as you read about Aaron as a child, Aaron as a teenager, and Aaron only a few months ago when his heart was broken by a closeted basketball player. Reading this backstory is brutal because we think we know where it's heading and then Silvera adds new wrinkles of information. This section forces the reader to re-contextualize so many events and character details that had just seemed like rich world building. Other novels have played with the timeline of their narrative and presented story out of order, but this isn't just a stylistic choice, this serves the story and characters first.
While the inventive plot and authentic characters are this novel's main strengths, there is so much here for a rich discussion. Do you think Adam Silvera's debut has a shot at the RealCommittee table? Let's get to it in the comments!
Filed under: Books to look for
About Joy Piedmont
Joy Piedmont is a librarian and technology integrator at LREI - Little Red School House & Elisabeth Irwin High School. Prior to becoming a librarian, Joy reviewed and reported for Entertainment Weekly's PopWatch. She reviews for SLJ and is the President of the Hudson Valley Library Association. When she's not reading or writing about YA literature, she's compulsively consuming culture of all kinds, learning to fly (on a trapeze), and taking naps with her cat, Oliver. Find her on Twitter @InquiringJoy, email her at joy dot piedmont at gmail dot com, or follow her on Tumblr. Her opinions do not reflect the attitudes or opinions of SLJ, LREI, HVLA or any other initialisms with which she is affiliated.
SLJ Blog Network
Archives