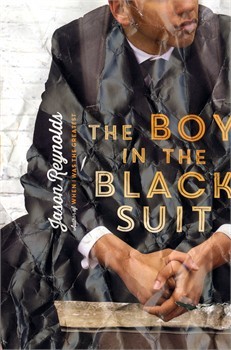 The Boy in the Black Suit, Jason Reynolds
Atheneum Books for Young Readers, January 2015
Reviewed from final copy
Sometimes people who are grieving can find comfort in structured routines. Matt Miller, the titular boy of The Boy in the Black Suit, doesn't just adopt a routine; he gets a job at a local funeral home where he will witness other people's grief every day. Quietly sitting in on the services and observing the mourners helps Matt feel like the pain he's felt following the death of his mother is the same as everyone else's. It gives him a sense of normalcy when everything in his life has changed. He's a regular fixture at the funeral home where he meets, of course, someone who challenges everything he thinks he knows about mourning, and that someone is a girl who will change his life.