SCROLL DOWN TO READ THE POST
The Unfinished Life of Addison Stone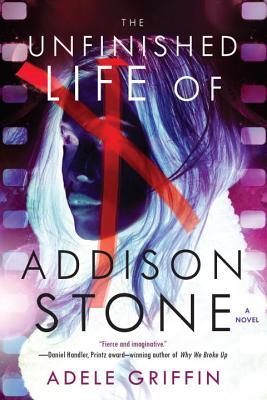 The Unfinished Life of Addison Stone, Adele Griffin
Soho Teen, August 2014
Reviewed from final copy
A few weeks ago, I reviewed How It Went Down by Kekla Magoon. It's not immediately obvious, but that title shares remarkable similarities with Adele Griffin's faux-nonfiction novel, The Unfinished Life of Addison Stone. Both books focus on dead teens, using multiple voices to reconstruct the story of how they died. It's an interesting structure for the examination of a single teenager and the multitudes an individual can contain.

Without question, the most compelling element of Addison Stone is the integration of graphics with the text. Photographs of Addison (portrayed by Giza Lagarce) and her artwork are used to illustrate and support the text. When Addison's friends, teachers, and family describe her art, it's there for the reader to see. Through the art, we can imagine the kind of mind that could have created the piece and consider how that fits with the person described. We can witness her growth as an artist, particularly as she began to focus on portraits while continuing her "stunt" art. By showing Addison's work, Griffin is thrusting us into Addison's world.
Griffin also uses "primary source" documents, emails from Addison, recorded notes, and interviews. We hear her voice, we see her work, and most importantly, we see her. Putting a face to the name is crucial for verisimilitude given the nonfiction style Griffin is using. The photos seen throughout the book are mainly the typical photos that people have from their teen years: friends goofing around, candids, the kinds of photos you take when you're young and obsessed with holding on to and preserving the present. Because Addison was a public figure, there's also the occasional paparazzi snap, but you can look at these photos and see a real face.
SCROLL TO KEEP READING THIS POST
Lagarce provides that face and is a crucial part of Addison Stone's success as a novel. I buy Addison as a character, in part, because she comes to life in the photos of Lagarce. Many of the characters describe Addison as a girl with model-looks, but the photos show that to be true. It's a detail that demonstrates how alien she was to most of the people she knew. (It also certainly helped me accept why Addison was so unusually beautiful.) She was rare in talent and beauty to her hometown friends as well as her New York City crowd. Addison was the kind of beautiful that makes a person seem unknowable. You can see this is Lagarce's eyes, but there's also a warmth there, as well as pain. You can get this from Griffin's text, but Lagarce makes those details stronger and cements them into being.
In terms of design, it's unlike anything else published this year. But is it an example of literary excellence?
The characters, who all speak from the first person perspective, start to blend together after a while. The cadence of their voices is not terribly varied. Griffin also has a tendency to lean toward overdramatic statements that don't ring true, even when they're poetic. Regarding theme; mental illness, identity, and artistic expression are among the topics explored with some getting more thoughtful treatment than others. However, Griffin is so committed to presenting Addison as a real person, that the style and design lift up these weaker elements to create something worth of discussion. Reading the various perspectives and seeing the collection of photos and work samples will make the reader ponder what their legacy will be when they're gone. That alone may make Addison Stone—a book with two stars and a spot on only one best list—a dark horse contender.*
*This text has been corrected from its original version, which mistakenly stated that Addison Stone received no stars. It is also worth noting that at Someday we don't look at every "best" list.
Filed under: Contenders, Fiction
About Joy Piedmont
Joy Piedmont is a librarian and technology integrator at LREI - Little Red School House & Elisabeth Irwin High School. Prior to becoming a librarian, Joy reviewed and reported for Entertainment Weekly's PopWatch. She reviews for SLJ and is the President of the Hudson Valley Library Association. When she's not reading or writing about YA literature, she's compulsively consuming culture of all kinds, learning to fly (on a trapeze), and taking naps with her cat, Oliver. Find her on Twitter @InquiringJoy, email her at joy dot piedmont at gmail dot com, or follow her on Tumblr. Her opinions do not reflect the attitudes or opinions of SLJ, LREI, HVLA or any other initialisms with which she is affiliated.
SLJ Blog Network
Archives