SCROLL DOWN TO READ THE POST
Fiction Roundup: Depressed Teens Edition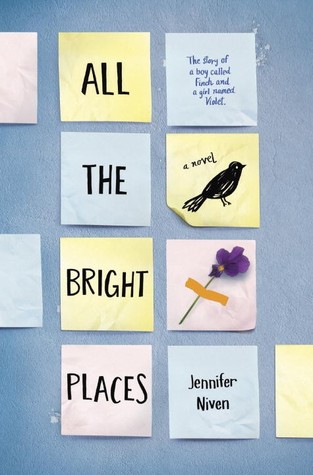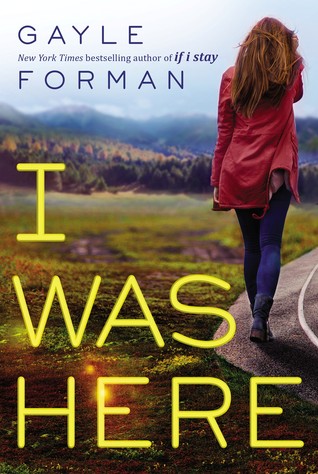 All the Bright Places, Jennifer Niven
Knopf Books for Young Readers, January 2015
Reviewed from final copy
I Was Here, Gayle Forman
Viking, January 2015
Reviewed from ARC

Hey folks, a friendly reminder that we do spoilers here so if you don't want to know major plot points for either of these novels, consider yourself warned.

In young adult literature mental illness is an ISSUE (note the all caps) that comes with a responsibility to the intended audience. Misinformation is potentially harmful, as is romanticizing or sugarcoating facts.* Yet an author also has a responsibility to the story that they want to tell, their characters, and to themselves as artists. This doesn't mean that accuracy and literary merit are mutually exclusive options—after all, accuracy is one of the Printz criteria—but they can be competing interests, especially in novels written with a young audience in mind. Can literary quality outweigh problematic messaging?
Today we're looking at two novels about depression, both published in January. All the Bright Places by Jennifer Niven has earned four stars and gathered a lot of early buzz; Gayle Forman's I Was Here has two stars and hasn't been in the awards conversation per se despite treading the same ground.

SCROLL TO KEEP READING THIS POST
All the Bright Places will probably tick all the boxes for a reader who likes sad stories. It's sick lit in slightly altered garb**; just substitute "depression" for "cancer" in the phrase "teens with [blank] who fall in love" and you're following the same story beats. Niven's strength is her character development. Violet, who is struggling with grief after the death of her sister, is more compelling than Finch who reads as a mysterious, tortured soul; a kind of romantic hero of the Rochester mold. Their love saves each other, until it doesn't.
I've been having a difficult time articulating why I didn't connect with this book. I knew that the depiction of Finch's manic depression and suicide bothered me but the only way I could describe it was "irresponsible," which isn't really much of an argument. As I stated in the opening, considering social responsibility when looking at literary quality is a tricky thing. Thankfully, I came across a review that has said everything already, and far more clearly than I ever could. Alex Townsend at Disability in Kidlit writes:
In his absence Finch goes from being an interesting, well-rounded character to a manic pixie dream-boy. Prior to killing himself he left all sort of special messages for Violet to find, final love letters to the wonder of their romance. During this section Violet doesn't question what was going through Finch's mind or the tragedy of suicide. Instead it's all about finding the next whimsical message and ultimately giving Violet the strength to move on with her life.
It's not only that Finch's suicide has the veneer of romance (a really damaging message for any reader); it makes his character smaller and a supporting player to Violet after they shared the novel's narration. I encourage you to read Alex's full review because she has a very thorough breakdown of the novel's portrayal of mental illness. It's essential reading if you work with teens who are reading this novel or others like it.
Does this potentially harmful messaging damage the novel's accuracy? If I was a committee member, I would argue that it does, but I don't think that's the book's only problem so I can't imagine it lasting long in a serious discussion for the Printz.
SCROLL TO KEEP READING THIS POST
Four stars though. I Was Here is similarly flawed dealing with the same themes. Forman's novel lacks the polish of Niven's but the romance is far more convincing and her narrator, Cody, is fully developed and complex. Her inability to accept her best friend's suicide motivates her to search for answers, and it's this journey that makes the novel increasingly unrealistic, but Cody's emotional struggle is completely believable.
Cody's friend Meg is the source of the book's problems. Seen only through Cody's memories, too often Meg seems like the cool, quirky girl with whom you would want to have been friends. Her depression is never a realistic problem; seeming more like a bogeyman than a mental illness. (For more on the depiction of depression and medication in I Was Here, read this excellent post by Amanda MacGregor at Teen Librarian Toolbox.)
Is it possible for a YA book to have an honest, unfiltered, yet responsible depiction of depression? Meg Rosoff's 2005 Printz winner, how i live now comes to mind; although Daisy's main struggle is with anorexia, depression is among her many problems. I'm sure there are other books that walk this fine line and I would love to hear your thoughts in the comments.
*I admit that I am biased as someone who works closely with teens in a high school, and therefore, I have an educator's perspective that's almost impossible for me to turn off.
**I hate this term. Can we find another way to refer to YA books about sick teens?
Filed under: Books to look for
About Joy Piedmont
Joy Piedmont is a librarian and technology integrator at LREI - Little Red School House & Elisabeth Irwin High School. Prior to becoming a librarian, Joy reviewed and reported for Entertainment Weekly's PopWatch. She reviews for SLJ and is the President of the Hudson Valley Library Association. When she's not reading or writing about YA literature, she's compulsively consuming culture of all kinds, learning to fly (on a trapeze), and taking naps with her cat, Oliver. Find her on Twitter @InquiringJoy, email her at joy dot piedmont at gmail dot com, or follow her on Tumblr. Her opinions do not reflect the attitudes or opinions of SLJ, LREI, HVLA or any other initialisms with which she is affiliated.
SLJ Blog Network
Archives