SCROLL DOWN TO READ THE POST
Morris Nominations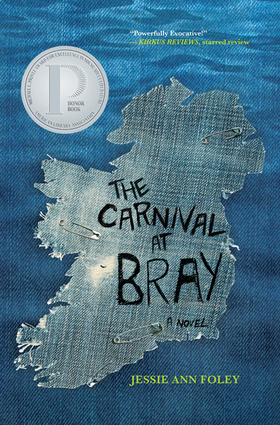 YALSA's Morris Award (technically the William C. Morris Debut Award) is a great showcase of strong new voices in the YA literature field. Often there are a few books we have had on our speculation list that end up being Morris finalists, because good writing is good writing. And, of course, sometimes the best writing is a debut — from Looking for Alaska, 10 (TEN!) years ago (before the Morris, but still a debut) to Seraphina just two years ago.
But the thing is that the Morris pool is a LOT smaller. And often crowded with schools of commercial clone fish, against which the more original and/or literary novels tend to really shine. And we all know that a big fish in a small pond often becomes a small fish when the body of water is bigger.
SCROLL TO KEEP READING THIS POST
The Printz is a pretty big body of water.Two of the five Morris semi-finalists have been our list from the start of the year. Joy really liked The Strange and Beautiful Sorrows of Ava Lavender, and Sarah was a fan, albeit with reservations, of The Story of Owen, Dragonslayer of Trondheim (admission: I still haven't read either). A third, Gabi: A Girl in Pieces, was a later addition to our list. Scar Boys sort of hovered in neither fish nor fowl territory — it has been on the pile of books to read all along, but it wasn't quite getting much buzz so it kept getting pushed lower than other books that seemed more urgent. And Carnival at Bray came out of left field, because there's always one…
Because there is sometimes that overlap between debuts and winners — remember Where Things Come Back, three years ago? — we like to look at the Morris shortlist with Printz glasses firmly in place. So let's see how Gabi, Carnival, and Scar Boys fare when we give them that kind of a read.
Gabi: A Girl in Pieces, Isabel Quintero
Cinco Puntos Press, October 2014
Reviewed from final copy

Gabi definitely wins the popularity vote, at least as far as critics and librarians go. It was cheerleading from you all that brought it to our attention initially, and then it snagged four starred reviews and made at least three year-end reviews based on the last big data collection I did.
And I really respect the people who are raving about this book.
I really respect this book, too. I think it's bold and has a fantastic voice and it's really important. But important is not the same as Printz worthy, and a strong debut that fulfills the Morris criteria may not live up to the Printz expectations.
Which about sums up how I would classify this one: a great Morris, but an unlikely Printz.
My first peeve is mild from a writing perspective — no glossary. I don't speak Spanish. True to Gabi's character, she peppers her journal with Spanish, especially when she is recording things her mother has said. The context sometimes gives the non-Spanish-speaking reader the gist of the statement, and occasionally the actual meaning, but sometimes the words are just there without quite enough context. Given that these are also conversations that are important (that word again, I know) — about women and body image and expectations — this was frustrating. By itself, looked at as part of the writing, I don't think this is a fair reason to knock the book down — again, the voice is great and this is a consistent and accurate detail for the voice. But the lack of a backmatter glossary does strike me as a significant design flaw, and it's really a shame.
My second issue is a bigger one. This book is just crowded. Two pregnant teens, an addict dad and a pregnant/single mom, rape, coming out — yes, all of this is life, it's all going on around us, but the way in which Gabi is this still point amidst a veritable playbook of teen issues seemed artificial. It was too much like a telenovela, a point Gabi makes, but I'm not sure calling out the flaw in the text mitigates it sufficiently. It meant that the emotional beats don't always get a chance to finish reverberating.
(On a related complaint, I found the father's death very predictable and a little too obviously foreshadowed, and then the balance of grief and coming to terms didn't totally gel for me. However, I am a woman who lost her father as a teen, and sometimes my own baggage gets in my way, so I'll grant that this may be a me issue and not a book issue.)
But, again, the VOICE. This really truly reads like a diary 95% of the time (there's the occasional infodumpish passage, and the slightly too perfect recall of conversations, but nowhere near the degree usually found in diary narratives, and a little cheating is probably unavoidable to make it work as a novel). The voice is fantastic, and one we don't hear enough. I completely believe Gabi's growing understanding of herself as a woman and specifically herself as a woman in the particular context of her Mexican-American identity and community. For the voice alone, this definitely deserves the Morris recognition, but I just don't believe the voice counterbalances the plot issues enough to make this a real contender for the Printz.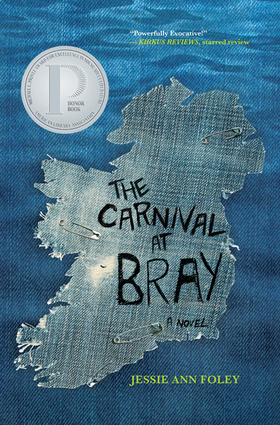 The Carnival at Bray, Jessie Ann Foley
Elephant Rock Productions, Inc., October 2014
Reviewed from final copy

A dark dark horse from a small small press, this is one I am glad to have brought to my attention, but I'm going to say straight out that while there are things I admire, I don't think this has even a long shot at the Printz.
In a word, this is overwritten. No. That's not quite the right word. It reads weirdly piecemeal, as if several short stories that were surrounding the same ideas but not actually about the same characters were revised into a single whole. I don't know that that is what happened, and I don't mean to say that I think it's what happened, but the way sections stand alone, and some elements (the unpleasant sexual encounter with Paul) are mostly dropped, and the way some sections — Rome — seem written from a different perspective all added up to give me an impression of a patchwork rather than a whole cloth. The language is beautiful but it's too much for Maggie to carry in a story that seems rooted in her perspective; whose voice is this? That's what makes me think overwritten, even though technically I recognize that that isn't quite right.
Tied into that is a sense of Maggie as unknowable. She never comes entirely together; she has no friends and no interests except what she copies from Kevin, and I never felt I truly knew who she was or how her pieces add up. There were moments where I liked her and felt for her, but she wasn't fully dimensional. I think this is because the authorial voice overshadows her and is both clearly from her limited perspective and yet clearly not her voice or head space; it creates distance.
And the epilogue: she's lost until true love saves her. She is not her mother because she can commit. I'm not sure I buy this ending for this book; it's a journey of Maggie becoming her own woman, and then it isn't. Or maybe it's a romance, since it ends on that note, except it really isn't. Sometimes this is a meditative, poetic coming of age, until it's a madcap adventure closest in tone to 13 Little Blue Envelopes, and then it's a fairy tale romance.
Now that I've told you all the issues, here's the thing — the writing is achingly lovely at times. The evocation of place is great. The sense of that moment in history is surprisingly effective. Foley is an author I want to watch to see what she does next, which makes her a perfect Morris finalist; she's also given us a deeply flawed but promising book, which makes her not a Printz contender.
The Scar Boys, Len Vlahos
Egmont, January 2014
Reviewed from ARC
SCROLL TO KEEP READING THIS POST
The Scar Boys gets props for originality, no question. I'm going to keep this short though because I didn't finish this one, and skimmed most of it. Harry Jones, narrator and guitarist for the titular band, is smart and sharp; he's also sympathetic without ever asking for sympathy. In general, his voice is engaging, consistent, and authentic. Despite these positives—which I don't want to downnplay because they're legitimate strengths—the book is weighed down by a contrived framing device.
It's 1987 and Harry is writing his college admissions essay. In several places, he addresses that unknown reader directly. It's not immediately clear that the novel is Harry's admissions essay until he addresses the admissions officer in the text. Design plays a part here because the essay is in a typewriter font, while the first chapter is in a conventional serif font. I appreciate the matching of the typeface to the content, but once there's a switch it's not unreasonable to assume that you're reading something different. In the last chapter, Harry concludes his essay but at that point the idea that the novel has been his essay is just a tad unbelievable.
More importantly though, the "essay" structure guides too much of the novel's style and tone. Vlahos does far too much telling here. Harry tells us how he and Johnny become best friends, but we don't see the bond between them grow. Even when he's narrating an event in detail—auditions for a new band member, for example—the format demands a nostalgic, almost passive tone. This story, which is compelling and full of potential, would have been better served by a voice unhindered by the constraints of college essay style.
As I've only read one other Morris nominee this year, it's hard to assess this book in comparison, but in the context of the Printz it's certainly a longshot. —Joy Piedmont
Filed under: Books to look for
About Karyn Silverman
Karyn Silverman is the High School Librarian and Educational Technology Department Chair at LREI, Little Red School House & Elisabeth Irwin High School (say that ten times fast!). Karyn has served on YALSA's Quick Picks and Best Books committees and was a member of the 2009 Printz committee. She has reviewed for Kirkus and School Library Journal. She has a lot of opinions about almost everything, as long as all the things are books. Said opinions do not reflect the attitudes or opinions of SLJ, LREI, YALSA or any other institutions with which she is affiliated. Find her on Twitter @InfoWitch or e-mail her at karynsilverman at gmail dot com.
SLJ Blog Network
Archives