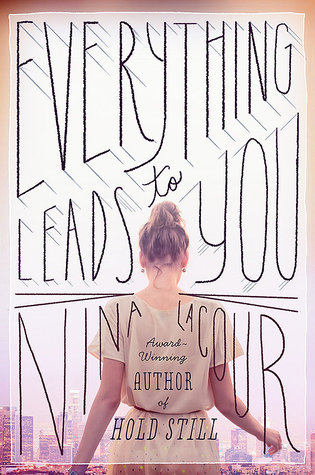 Everything Leads to You, Nina LaCour
Dutton Books, May 2014
Reviewed from Final Copy
Everything Leads to You has all the elements you would want in a YA summer book: love, glamour, and mystery all in the warm, sunny climate of Southern California. And that's just the trailer. Nina LaCour's latest novel is also a tender story that beautifully captures what it's like to be a young dreamer on the edge of adulthood.
There are a couple of pertinent details that are left out from these descriptions though. I wouldn't blame you if you didn't know that Emi, the protagonist, is a teen lesbian with African-American heritage (from her grandfather on her mother's side); a glance at the cover or the flap copy won't reveal any hint of these key facts. The book seems deliberately presented as white hetero-normative. So, I've thought about this almost as much as I've thought about the content of the novel and I'm still not sure how I feel. However, while I continue to let my ideas simmer, let's talk about the meat.