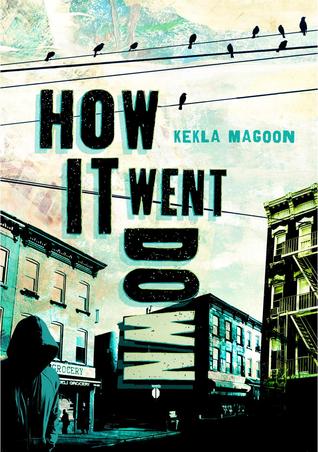 How It Went Down, Kekla Magoon
Henry Holt and Co. (BYR), October 2014
Reviewed from final copy
For many, the second half of 2014 will be remembered as the time when police violence against black communities sparked outrage, protest, and calls for change. This is a timely and sorrowful moment for How It Went Down to arrive as a novel about the shooting death of a black teen by a white man. Thankfully, Kekla Magoon handles the plot and characters with delicacy and enough nuance that the book may become a helpful way for some teens to begin to process their frustration and confusion.
It's important to note though, that How It Went Down is deliberately evocative of the death of Trayvon Martin, even though it's possible to draw some parallels to Michael Brown's death. It's also important to note that Magoon doesn't just recreate the plot beats of Trayvon Martin death; she's not interested in a "ripped-from-the-headlines" kind of storytelling. She's asking a lot of questions. How does a community cope with loss? When that loss is indicative of a larger social justice issue, how does that individual's life become mythologized and/or demonized? How does tragedy connect and divide the people closest to it?
[Read more…]