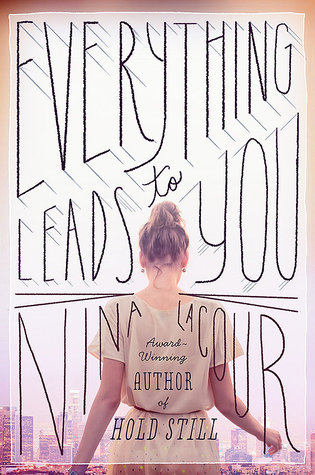 Everything Leads to You, Nina LaCour
Dutton Books, May 2014
Reviewed from Final Copy
Everything Leads to You has all the elements you would want in a YA summer book: love, glamour, and mystery all in the warm, sunny climate of Southern California. And that's just the trailer. Nina LaCour's latest novel is also a tender story that beautifully captures what it's like to be a young dreamer on the edge of adulthood.
There are a couple of pertinent details that are left out from these descriptions though. I wouldn't blame you if you didn't know that Emi, the protagonist, is a teen lesbian with African-American heritage (from her grandfather on her mother's side); a glance at the cover or the flap copy won't reveal any hint of these key facts. The book seems deliberately presented as white hetero-normative. So, I've thought about this almost as much as I've thought about the content of the novel and I'm still not sure how I feel. However, while I continue to let my ideas simmer, let's talk about the meat.
This is a lovely story that at first, does feel a bit gimmicky; there's something about a challenge to do something "epic" that feels especially false. Do people really challenge each other? (Yeah, I know, but not those challenges. Social media phenomenon doesn't apply here.)
In fact, it doesn't really matter if people do or don't challenge each other, it still reads like a contrived device to get the plot moving. It's a plot device that probably wouldn't feel realistic in any situation because the whole premise is just a bit too convenient. Emi's brother happens to have to go out of town or work; he also incidentally works for a production company that has no problem hiring teenagers as interns, and later as actual staff.
There are a lot of circumstances that need to align perfectly to get the story going; however, you should ignore them all because I think they work as a piece of one of the major themes of the novel, which is illusion. More specifically, LaCour is interested in how our dreams can cloud our view of the real world and of other people. Emi meets Ava–the long-lost granddaughter of a Hollywood icon–and can only see her as the romantic heroine in a kind of "lost princess" rags to riches tale. To Emi, Ava is a celluloid dream. 
Film and the effort that goes into making them, is related to illusion as a theme, but equally important to the book. Film is the modern world's major art form (sorry, tv) and I really believe in it as a medium that presents audiences with an illusion. If a film works, we can believe in just about anything the director puts on screen, and in a really brilliant film, the movie itself can be an illusion (e.g.: The Prestige. Go watch it, please).
When Emi talks about why she loves movies, she uses the word "remembering," but what she's really talking about is nostalgia. Movies allow us to dream, but they also allow us to turn inward and look back; to relive past glories and pain. The book is structured in three parts, mirroring the traditional three act structure of a film. The beats within each part also follow film conventions in terms of when turning points occur, rising action and smaller denouements. LaCour gives us a book in movie clothing (without the visuals, of course) and it totally works for this story, these themes, and these characters.
What may keep this book off the list for serious contention is the sentence-level writing. LaCour's use of language is occasionally awkward and despite her brilliant ability to develop most of the characters, the dialogue sometimes sounds forced. I could make this jive with my theories about the books themes but, I don't think that's what's happening; they occur too randomly to be a deliberate style.
Maybe the RealCommittee will privilege the brilliant character writing over the style and voice. I hope so. I do think this is the kind of book that can get lost among flashier, higher concept novels (yes, I'm looking at you Grasshopper Jungle, and you Noggin). We tend to forget that there can be a lot to chew on the quieter, more domestic stories of first love and relationships. That's not to say those are the only qualities in Everything Leads to You, rather to highlight that this is indeed a novel that asks readers to think about the meaning of privilege (racial, social, and economic), what it takes to develop your professional passion while finding your voice and learning to collaborate; and the unexpected twists and turns that life may bring.
I've had a go, so why don't you take a turn? Is this a contender for real or am I trying to construct a perfect scenario for a book I really liked? And I never did tackle those non-Printzly questions about the cover and flap copy. Perhaps we can get into it in the comments. I certainly have a lot more to discuss. Let's go!